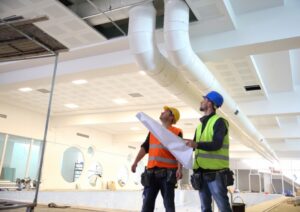 There are many people out there who might tell you they're able to service your commercial HVAC system. Some are experienced residential HVAC professionals. Others might be general maintenance people, either working at your property or with their own business. But we're here to tell you that there are qualities that set commercial HVAC technicians apart. When your system needs maintenance or repair, someone with training and experience in commercial systems will always provide service you can trust and rely on.
What exactly makes such a big difference? There are a few key points that can help you to understand the value of partnering with a team of commercial HVAC experts when you are looking for installation, maintenance, or repair for your commercial HVAC in Monroe, LA.
Training and Experience with Commercial Systems
The HVAC systems used in commercial spaces are not the same as those used in homes. It's not simply a difference in size. For example, many commercial buildings use rooftop HVAC units, which differ significantly from the sort you have at home. Ductwork is another thing that is far more complex in commercial settings, both because of the size of the space and the unique layout needs. Technicians who specialize in commercial HVAC installations, maintenance, and repair have training, skills, experience, and even tools that residential HVAC professionals do not.
Experience Working in Commercial Buildings
Quite aside from the technical aspects of commercial HVAC systems, working in a commercial setting is different from working in residential settings. Your building has many occupants and users, such as tenants, employees, and customers. There is a flow to the use of space, and interruptions to that flow can waste time and cost money. Technicians with commercial experience prioritize the needs of the people using the space, and are skilled at minimizing interruptions to your business.
Familiarity with Your System
In the moment, perhaps you are only concerned with getting the service you need right now, such as the installation of a system or repair of a currently-pressing problem. But HVAC systems should last many years, and you should be thinking ahead. If you partner with a reliable team that is knowledgeable about commercial HVAC systems, you will have someone on your side who is already well-versed in your building, your system, and your commercial needs. This means having a consistent and trustworthy source of information on subjects like when you next need maintenance, how long your HVAC system is likely to last, and how to maximize efficiency to get the most comfort for the lowest utility cost. 
When you put your commercial HVAC system into the hands of Mike Smith Heating & Air Conditioning, you will have a partner you can rely on. We provide comprehensive services, technicians certified by NATE (North American Technician Excellence), and even have 24/7 emergency service. 

Contact Mike Smith Heating & Air Conditioning, LLC. We provide "Professional grade service."