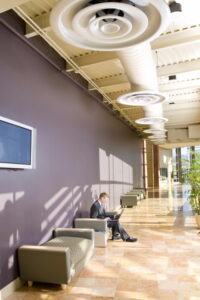 As the owner of a business or a commercial property, you know how important it is to have partners in the upkeep of that property. This might include a cleaning service, a handyman, or a plumber you know you can always count on in an emergency. In Louisiana, it's absolutely critical to keep your business establishment cool. To do that, you need a commercial HVAC service you can rely on.
How can you choose the right HVAC company? Is it important for them to be experienced with commercial properties? What are the benefits of having a consistent partner in the care of your HVAC system? We've got the answers for you.
Choosing the Right HVAC Company
First, make sure the company is properly licensed. Check their certifications and what training their technicians have had. NCI, the National Comfort Institute, is a widely-regarded organization that certifies HVAC technicians. ACCA, Air Conditioning Contractors of America, provides reputable training.
Next, make sure the company will be around for the long haul. When you have an air conditioning emergency in a heat wave, you don't want to discover that your HVAC contractor has suddenly gone out of business or disappeared. A long-standing business is your best bet.
Finally, only consider entrusting the wellbeing of your commercial HVAC system to a company which is specifically trained and experienced in the upkeep of that type of system.
The Importance of Commercial HVAC Experts
Residential HVAC systems are not just smaller than commercial ones. They're also less complex. While someone might be excellent at working on a central air conditioner for a home, they might struggle to understand or know how to maintain or repair a commercial system.
Technicians who are experienced with commercial systems are also knowledgeable about how to do their work in a business environment. They are adept at minimizing interruptions to workflow and staying out of the way of employees, tenants, and customers.
The Benefits of a Trusted Partner in Your Commercial HVAC Care
When you have a steady, consistent HVAC contractor, you'll know exactly who to call when something goes wrong. The person who arrives will already be familiar with your building, your business, and your HVAC system. They'll be able to access information about when maintenance was last performed, and they'll know what problems your system has encountered before.
Every step along the path—installation, maintenance, addressing repair needs, dealing with emergencies, and eventually replacing your old system with a new one—will be streamlined.
The Mike Smith Difference
Mike Smith Heating & A/C was established in 1987 and is still a family-owned business. Our technicians and installers are ACCA trained and NCI certified. We're experts in commercial HVAC systems and the needs of commercial buildings and businesses. And when disaster does strike, we have 24/7 emergency service.
You can count on us to be your reliable partner in the long-term care of your establishment's HVAC system. Whether you need installation, maintenance, or commercial AC repair in Sterlington, LA, reach out to us.

Contact Mike Smith Heating & Air Conditioning, LLC. We provide "Professional grade service."