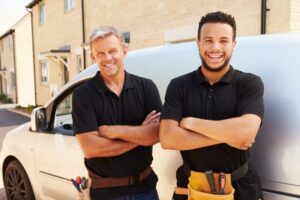 When it comes to air conditioning installation, maintenance, or repair, it can be tempting to hire an amateur, a general property maintenance person, or attempt to DIY. It might seem at first glance that you could save some money that way. But be warned! The cost of hiring an amateur or working on your air conditioner yourself can be unexpectedly high. Professional AC technicians will actually save you money. Here's how.
Avoiding Future Repairs
We spend a lot of time looking at air conditioners that are in need of repair. One of the biggest underlying causes is amateur installation. When an amateur tries to set up an air conditioner, they don't have constant daily experience with air conditioning systems to work from. It's easy for things to go wrong, and sometimes those things are small enough not to be noticed at first. But if a coil gets pinched and begins slowly leaking refrigerant, or if the drainage lines aren't set up properly and allow water to dribble into your wall, you'll soon be looking at a very big problem. Even the initial choice of system can get an amateur into trouble. If it isn't correctly sized for the square footage and layout of your building, it will end up struggling to do the job and doing damage to itself. The amount you saved on installation will soon go toward paying a professional technician to set things right.
Getting the Job Done Once
Another frequent issue we see is when a building owner or amateur has attempted to repair an air conditioner and failed. This means that they've invested time and money in trying to resolve an AC problem, and then they must pay again to have it resolved by a professional. There's not much in life quite as frustrating as paying twice to get something once! If you rely on a qualified company to do commercial AC service in Sterlington, LA, you'll only need to have the job done once.
Keeping the System Under Warranty
Commercial HVAC systems are expensive. One of the ways to curtail that expense is by making sure they remain under warranty. This could mean that the manufacturer will pay for some of the costs of repair in the future, such as parts and perhaps even labor, and in some cases even cover the cost of replacement if a system fails early. But AC warranty agreements usually have requirements that must be met for the manufacturer to cover any such costs, including that installation, annual maintenance, and any repairs always be done by a licensed professional.
Extending the Life of the System
As we mentioned, the cost of a new commercial air conditioner is considerable. That means that one of the best ways to save money is to make sure you keep it running as long as possible. Many things can put unnecessary strain on an AC system, including improper sizing for the space, lack of maintenance, and failure to get repairs promptly enough. Proper, thorough maintenance done every year by a qualified professional will reduce wear and tear. By keeping everything clean and lubricated, inspecting and testing all the components, and catching little issues before they become big problems, your professional AC technician can ensure that you get years more life out of your air conditioner than you would if you allowed an amateur to work on it.
To get the highest quality performance out of your air conditioner, make sure it gets the highest quality service.

Contact Mike Smith Heating & Air Conditioning, LLC. We provide "Professional grade service."