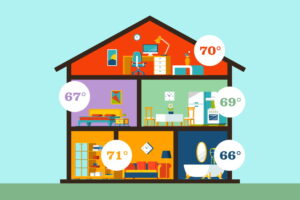 If you're trying to get better control of your home, then it's important to consider a zone control systems. Zone control systems are segmented systems that use a series of dampers that allow how to heat or cool your home in segments. A complete zone control system will use a series of dampers and individual thermostats to control your home.
Zone control systems in West Monroe, LA give you adaptive control and more flexibility than a standard centralized AC or heating system can. If you have a space that struggles with even temperature control, then we suggest investing in one of these systems. Today, we'll run through some of the best benefits of these systems. Remember, the best way to ensure that your zone control system works for you is always to hire a professional for the work.
The Benefits of Zone Control Systems
There are many benefits of zone control systems. Here are a few of the best.
Better Comfort
One of the best benefits of a zone control system is the individual control that you get from this system. Gone are the days when you're bickering with other members of the household over the temperature of your home. Each member of your home can control the temperature of a space. The bedrooms can be one temperature, the living room can be another, and your office space can be yet another temperature.
This also helps because most homes have a natural level of temperature difference throughout them. You might notice that one part of your home runs a little warmer because there is a lot of natural light coming in to this area. Having a damper specifically to control this space means you can cool it individually or cool it more than other spaces.
Energy Efficiency
You no longer have to heat or cool your entire home just to get relief. If you're hot in your bedroom while trying to fall asleep on a summer night, you can just cool off this specific part of your home. When you do this, you're saving a lot of energy. Just cooling a smaller segment of your home is much more efficient than blasting air conditioning throughout your entire house just to get relief in one spot.
Longer System Lifespan
Saving on energy efficiency is a benefit on its own, but it's also a benefit when you consider that it can help your HVAC systems last longer. Zone control reduces strain, which increases your system's chance of lasting as long as possible. 
Cost Efficiency
When you save on energy, you're going to save on cost as well. This is because saving on energy means that you're also boosting the efficiency of your home. When you increase your energy efficiency you spend less time cooling, put less strain on your air conditioning system, and reduce the overall amount you'll pay over time. While investing in a zone control system is a financial investment, it's one that will help you save money over time.
Contact Mike Smith Heating & Air Conditioning LLC today to schedule an appointment with our professionals. We promise "Professional grade service."