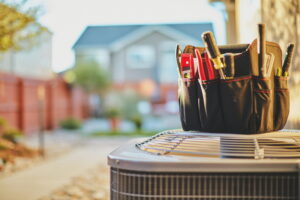 Temperatures are rising and summer is almost here. You can prepare for the hot sunny days by ensuring your air conditioning system in West Monroe, LA is working properly. One of the best ways to do this is through AC maintenance. Maintaining your AC unit helps lower the costs associated with both energy usage and repair and keeps your unit running efficiently.
If you're unsure where to begin, we've compiled some tips for improving your unit. This routine isn't meant to take the place of annual professional service, but can help with the lifespan of the unit. The average air conditioning unit is meant to last 15–20 years, but this can be shorter if it's not properly maintained.
Check Air Filters Monthly
Checking the air filters regularly is the first place to start when you want to make your AC run better.  When air filters get dirty or clogged, the system must work harder to draw in sufficient air. Dirty air filters increase energy use and place added strain on the system. Cleaning or replacing the air filters monthly is one of the easiest and most effective ways you can improve your air conditioner's performance and efficiency.
Keep the Area Around the Condenser Unit Clear
When plants and debris surround your outdoor condenser unit, it can't run as efficiently. Clear dirt and debris away from the unit. Remove weeds and cut back overgrown plants to allow proper airflow around the unit. Leave an empty 4-foot radius around the condenser unit if possible.
Shade the Condenser
Another simple and effective air conditioning tip is to shade your condenser unit. If the condenser sits in direct sunlight, it's naturally going to get hot. A hot condenser has to work harder. You'll still want to avoid blocking airflow while shading the unit. There are shades designed to go around condensers, but another option is to add landscaping to the property to increase shade throughout your yard. Adding landscaping creates a cooler microclimate and reduces your home's cooling load.
Keep the Windows Closed
Optimize your home to work with your AC unit. Keep windows and doors closed while your air conditioner is running. If you plan to open the windows and doors, turn off the system.
Install a Programmable Thermostat
A programmable thermostat allows you to use the air conditioning system more efficiently and helps to save you money. This type of thermostat lets you schedule the air conditioning operations. For instance, when you're not at home, you can adjust the thermostat to increase the temperature by five or ten degrees. You can program it to adjust back to your preferred temperature before you even get home. This ensures you're not sacrificing comfort to save money.
Close Off Vents in Spare Rooms
If you have rooms no one uses, like a spare bedroom, consider closing the vents and air ducts in those rooms during the hottest months. This will allow more air to flow into the rooms you actually use and save money on your cooling costs.
Signs You Need a Professional Check-Up
It's best to address any issues before they turn into bigger problems. Some signs that your system has issues include:
Increased energy costs
Frequent system cycling
A frozen compressor
New or unusual sounds
The best time to have your AC professionally serviced is right before the summer months. Contact Mike Smith Heating & Air Conditioning, LLC to schedule an appointment with our professionals. Professional Grade Service.