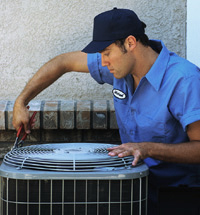 July is typically when things really start to heat up. This is when your air conditioning in West Monroe, LA is put to the test. If you've realized that your air conditioner can't do all you need it to, an upgrade may be necessary and that's when you should consider both ductless and ducted models. 
When we talk to homeowners, we often find that they don't know the difference between the two models, that they have difficulty weighing the pros and cons of each system, and they can even feel overwhelmed with options. That's why we're here to help you. We'll start with a run-through of the benefits below and you can always talk to our professionals for more information 
Ducted or Ductless AC? Weighing Your Options
West Monroe summers are hot. This is no secret to any of us who live here. In fact, it's probably something you think a lot about during the spring months to prepare for the heat that accompanies summer. After you tune-up your system and swap out the HVAC filter, there might still be the question of replacement looming. If you're ready to replace, the question then becomes "ducted or ductless"?
Ducted Systems
Ducted systems are the central air conditioners and heat pumps you're probably familiar with. These systems are incredibly common and more efficient than ever. In fact, new central air conditioners have higher AFUE (annual fuel utilization efficiency) ratings than ever before.
Heat pumps are known for being efficient in heating mode. This is largely because they move the heat where you want it rather than generating it in the way a furnace does. By having a system suck all warm air from outside your home and funneling it indoors during the colder months, you'll notice decreased energy consumption.
What You Should Consider
While both options are great, you need to consider what's right for your home and your needs. For example, if you're someone who doesn't regularly clean their ductwork or you have an older home and it isn't ready to make the commitment to redoing ductwork, then a ducted system might not be the right choice. This is because your air conditioning system can be as efficient as possible, but your ducts will always create a drawback if they're not pristine.
Ductless Systems
When HVAC contractors mention ductless systems, they're talking about ductless mini splits. These systems use heat pump technology and a system of small air handlers to cool a home. The beauty of this type of system is that all the air handlers can be run individually for specific comfort or all together to mimic the feeling of a central air conditioner. 
What You Should Consider
A ductless mini split would be the right system for you if you have a home that's prone to temperature disparities and you'd like to level it out. A ductless mini split isn't the right option if you're not a fan of having the individual air handlers visible in your home or you want to power of centralized ductwork.
Contact Mike Smith Heating & Air Conditioning, LLC to schedule an appointment with our professionals. We promise "professional grade service."